skin care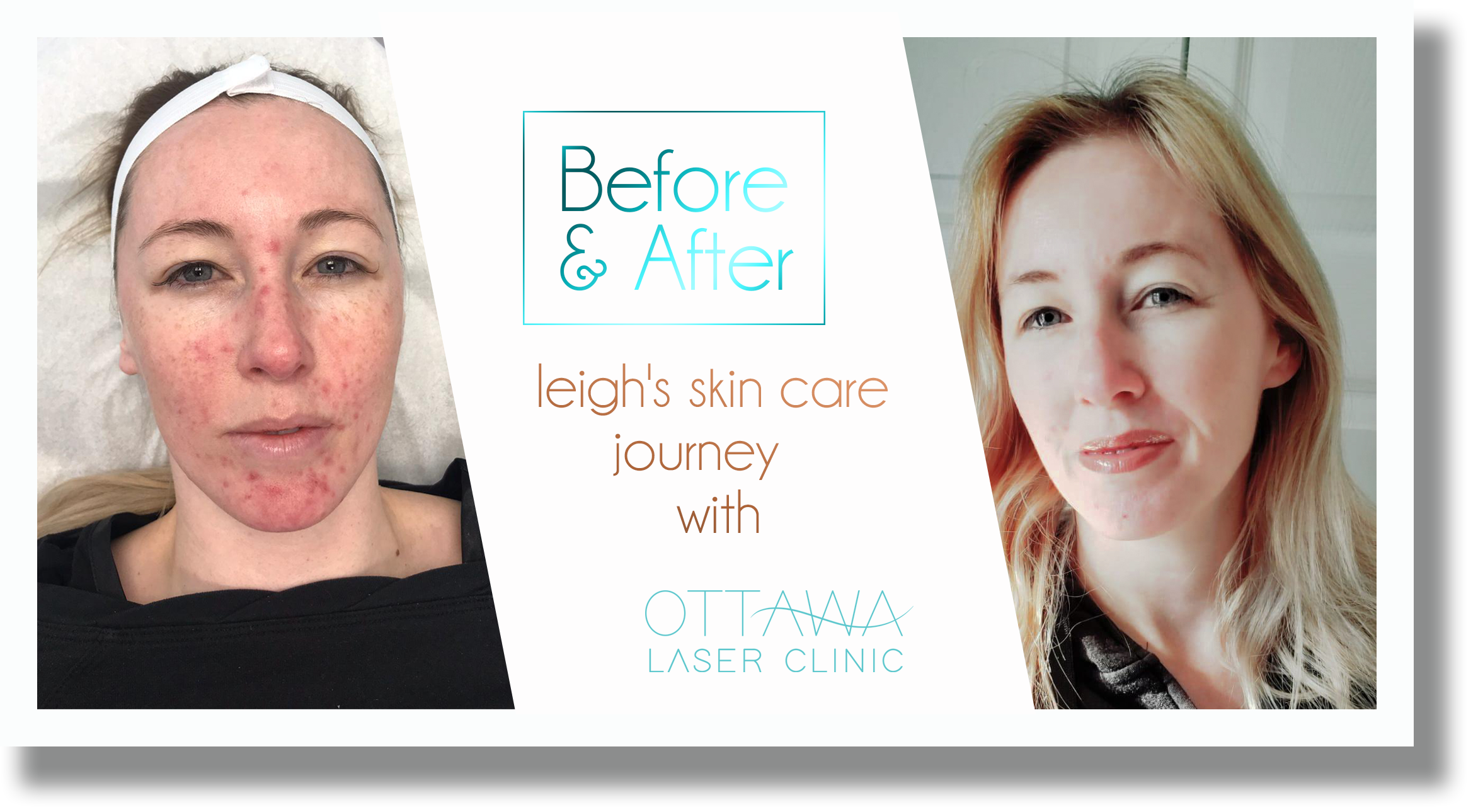 Leigh came to us with a common skin concern. One that many of us struggle with on a daily basis; Skin that's starting to show signs of aging but also experiencing breakouts.
Most of us think of breakouts and acne as something that only affects us in our teenage years, but the truth is that acne can happen later in life too. As we age our bodies are still going through hormonal changes which are often the leading cause of breakouts. One of the major differences between teenage acne and adult acne though, is oil production. As we get older our skin produces less oil, so we often see drier, dehydrated skin in cases of adult acne. Also, just to add insult to injury, we typically end up with fine lines, wrinkles and uneven pigmentation. Yay… 🙁
The reason; Cell turnover and healing time slows as we age leading to lingering breakouts and post inflammatory hyperpigmentation. Acne and wrinkles at the same time… not fair right? Don't fret, there are great solutions that can address both at the same time!
Check out Leigh's customized treatment plan
Treatment #1: Picosure Focus Array.
Cost: $500 Package pricing available on multiple treatments.
This laser treatment works to rejuvenate the skin by correcting a number of skin issues. It will lessen the appearance of fine lines and wrinkles, hyperpigmentation and texture irregularities like large pores and mild acne scars. While it's not recommended for treating inflamed acne, it is safe for mild breakouts and blocked pores. Most people that have mild acne or periodic breakouts find that their skin clears faster after a focus array treatment because of the stimulation of the skin's natural healing process. Downtime is minimal with redness post treatment typically clearing within 24 hours or less. Hyperpigmentation will initially darken the day after treatment and start to lighten within 1-2 weeks. Another bonus about this treatment for women is that makeup can be applied post treatment.
BEFORE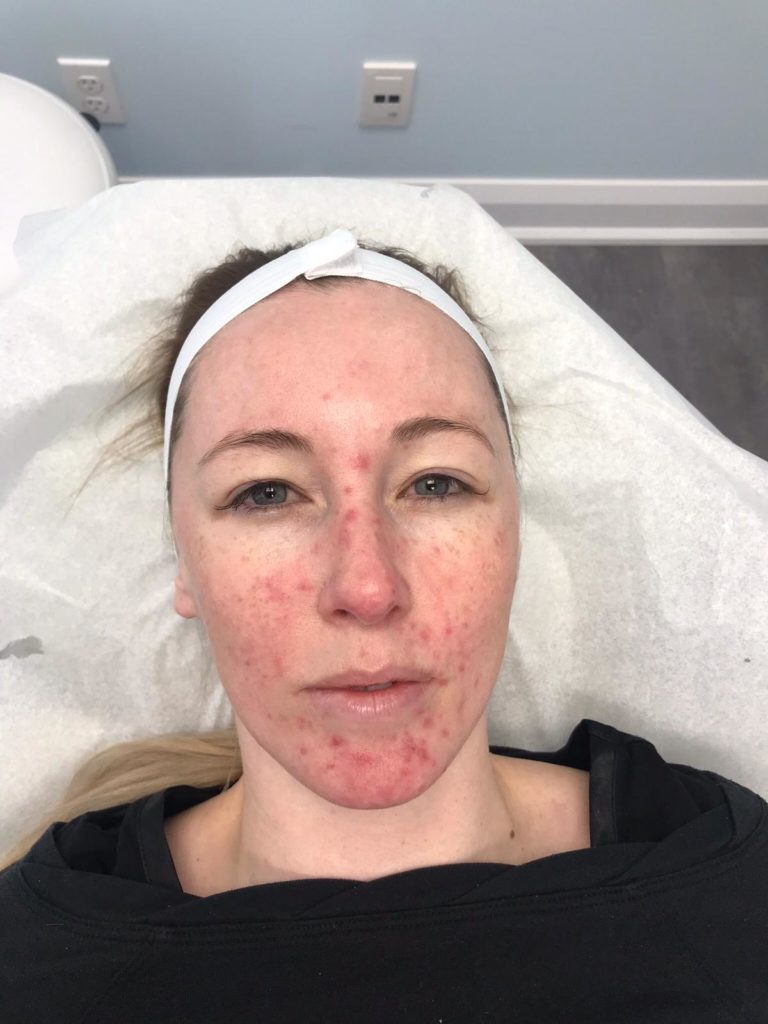 IMMEDIATELY AFTER TREATMENT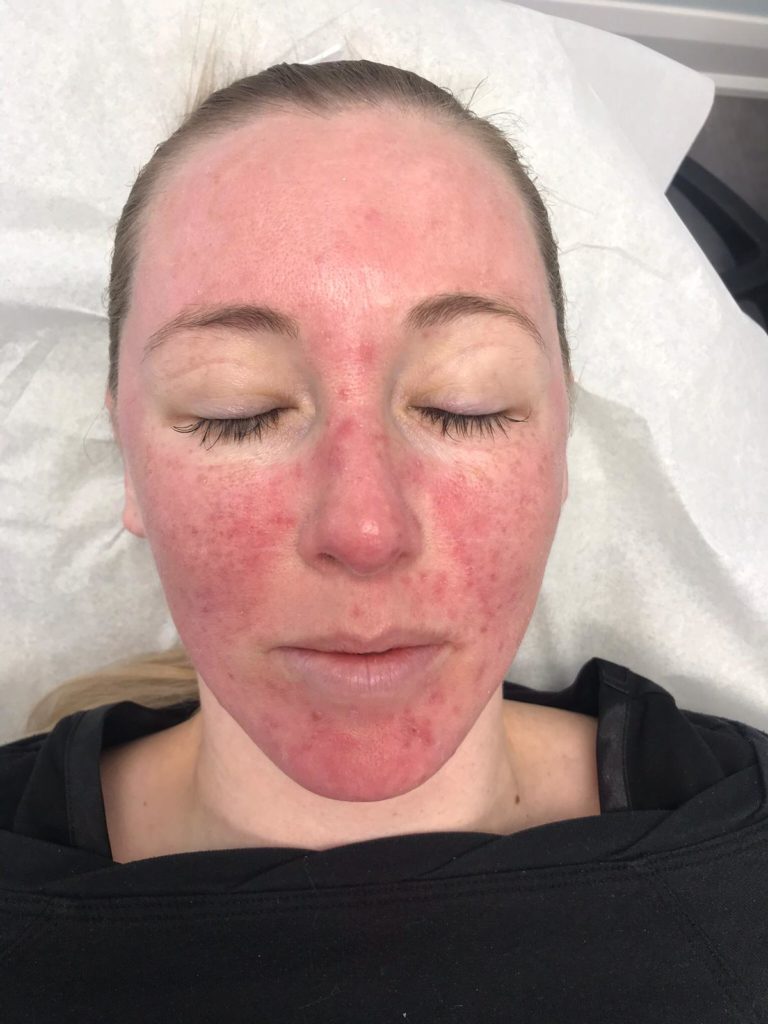 24 HOURS POST TREATMENT
You can see darkening of hyperpigmented areas, but all inflamation has calmed down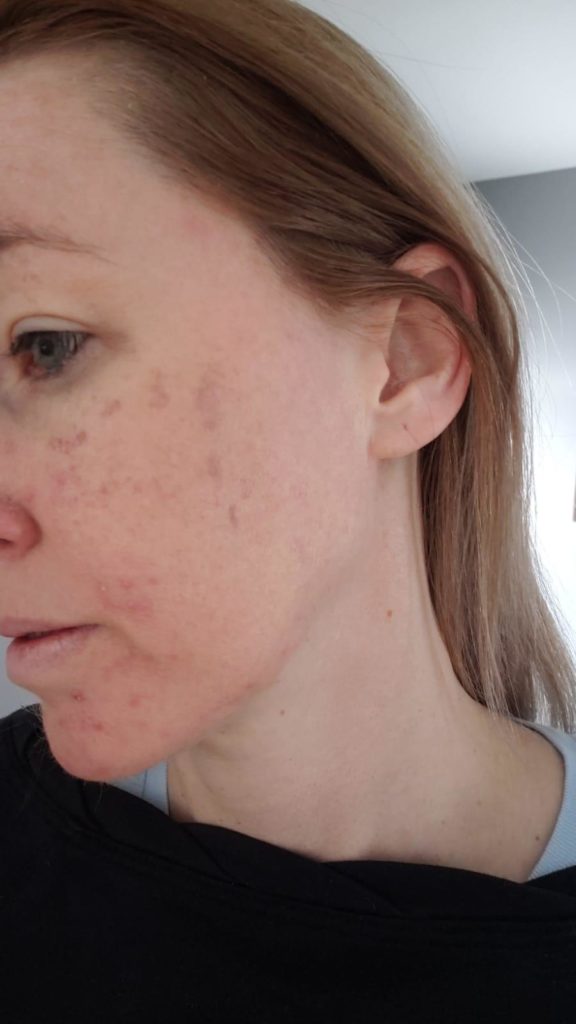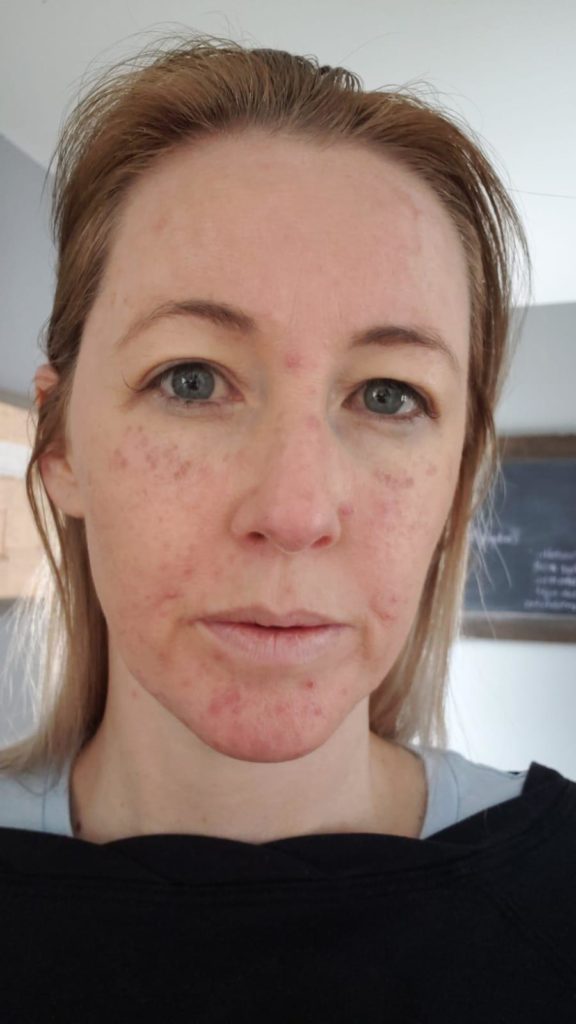 Treatment #2: AlumierMD PowerGlow
Cost: $165 – Includes a post peel skin care kit. Package pricing available on Multiple Treatments.
This treatment is also known as a Jessner's peel and contains lactic acid, salicylic acid and resorcinol to brighten, clear and smooth the skin. We did this treatment 2 weeks following Leigh's Focus Array treatment to give the skin time to recover and begin the rejuvenation process. Power Glow is a medium depth peel and it typically takes the skin 5-7 days to exfoliate or "peel" the very top layers of the skin post treatment. We love peels because not only do they deliver a great surface exfoliation (giving the skin a baby soft feel), but they also work on the deeper layers of the epidermis to lighten pigmentation irregularities, stimulate cell turn over faster and increase the skin's ability to produce collagen and elastin. The salicylic acid in the Power Glow works not only to exfoliate, but also to help break down oil and blockages in the pores. This makes it a great option for congested and breakout prone skin. There is also minimal downtime after a Glow Peel. Most people will experience some superficial flaking on the skin starting about 3 days post treatment with the flaking resolving 7-10 days post treatment. A post care kit is always provided to help manage any flaking or skin sensitivity. The amount of 'peeling' will vary from person to person (as everyone's skin is unique) and also the peel formulation used.
Treatment #3: Cosmetic injections – Botox
Cost: $190 ($10/unit)
2 weeks following Leigh's Chemical Peel our injection specialist, Dr. Wassef, used 19 units of Botox to soften the lines of the forehead and frown lines between the brows. It takes approximately 2 weeks to see the full results of a Botox treatment but the results typically last 3-4 months! It's a very fast, comfortable procedure with again, almost zero downtime. Most people's injection marks usually fade within a few hours.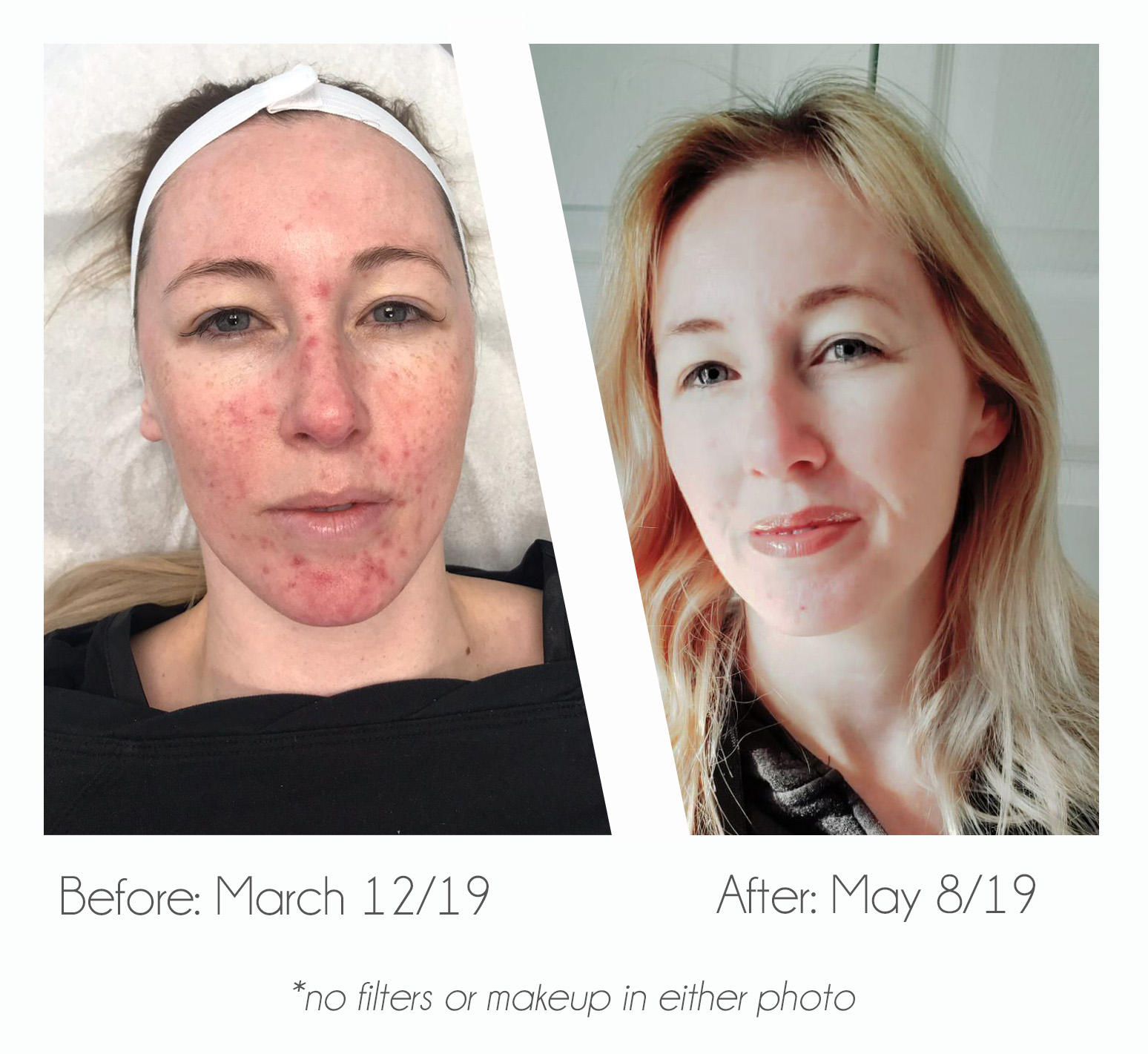 Home Care:
Home care is key to maintaining the results of professional treatments. Treatments without maintenance is like going to the dentist for a cleaning and then never brushing your teeth! For Leigh we recommended the following AlumierMD products:
Purifying Gel Cleanser
Bright and Clear Solution
Ultimate Boost Serum
AHA Renewal Serum alternated daily with Retinol Resurfacing Serum 0.5 at night time only
HydraClarite Moisturizer day time
HydraDew Moisturizer: night Time
Clear Shield Broad Spectrum Sunscreen SPF 42
Hard work and regular use of professional products really do pay off! The difference in Leigh's skin in just 6 weeks is remarkable!
At Ottawa Laser Clinic, we're very proud of the services we offer and the changes we can make in our client's skin. We'd love for you to check out our reviews on Google and Facebook and see first hand what people have to say about our services!
If you're thinking you're ready to make a change in your skin care, we'd love to hear from you. We offer free skin care consultations and can recommend the best treatment plan and products for your skin care needs.
We look forward to making a difference in your skincare regime!
Love,
The staff at OLC