Freedom From Flaws       
Embrace the best version of your skin with rejuvenation, revitalization and resurfacing. Our PicoSure Focus Array fractional technology can treat everything from skin aging and texture (including scars) to uneven pigmentation and hyperpigmentation.
Rejuvenate your skin with PicoSure Focus Array
Achieving a more youthful appearance without the typical discomfort and downtime is now possible with PicoSure®.
PicoSure Focus Array is a quick and easy non-surgical, non-invasive laser skin treatment that focuses on your problem areas whether it's brown spots, sun damage, freckles, pigmented lesions, wrinkles or acne scars, and can be used to treat many areas of the body including the chest or décolleté, face, hands, legs, and more.
Unlike some lasers that rely on intense heat energy which can cause pain and lead to significant skin redness and downtime, this gentler treatment provides impressive results without the associated discomfort.
Refresh your skin today with PicoSure's breakthrough technology and see visibly clearer skin faster, and with fewer treatments.
Benefits
The benefits of skin rejuvenation using PicoSure Focus Array fractional technology are quite remarkable. In addition to stimulating collagen and elastin production for firmer, more elastic skin, it also improves texture – with the power to reduce wrinkles, as well as mild to moderate scarring.
It can also help to even out skin tone, removing uneven pigmentation and sun damage. Finally, there is very little downtime following treatment.
Laser treatment can significantly diminish spots and freckles
Even if you're vigilant about sun protection, there's a good chance UV rays have left their mark somewhere on your skin. Dark spots and freckles are one of the first signs of aging and often appear on areas exposed to the sun, including the face, chest and arms. PicoSure laser treatments can safely clear away excess pigment to help you look younger.
A powerful treatment for all types of wrinkles

Picosure Skin rejuvenation will help build collagen and elastin, which make up the support structure in our skin. As we age, that support structure weakens, forming wrinkles. Laser revitalization treatment uses powerful laser technology to refresh the skin by stimulating collagen and elastin production. It works fast to minimize wrinkles and improve the appearance of the skin on various areas of your body, such as your neck, cheeks, hands and arms. It can also smooth away smokers' lines around the mouth, and reduce crow's feet around the eyes.
Easier than surgery
Unlike surgery, such as face lifts, that require long recovery times, laser treatment is an alternative with less downtime, allowing you to recover in a few days with minimal discomfort or side effects.
You can also treat other areas of the body, such as hands, arms and neck area. It's a great option for:
Softening wrinkles with minimal discomfort
Younger-looking skin without drastic facial changes
Dramatic, yet natural-looking results
Ideal Candidate
Anyone who has concerns with skin aging or imperfections caused by sun damaged skin or acne scarring, is an ideal candidate for skin rejuvenation.
If you have fine lines, brown spots or wrinkles around your eyes, mouth, on any area of your body including face, hands, and arms you are well-suited for laser skin rejuvenation treatment.
Picosure Focus Array Treatments
Picosure Focus Array treatments can address the following:
wrinkles around the eyes or crow's feet
wrinkles around the mouth
frown lines
lipstick lines
smoker lines
facial wrinkles
acne scarring
uneven skin tone/sun damage
uneven texture 
What to Expect
Depending on the condition being treated, multiple sessions may be recommended to achieve the best results. PicoSure Focus Array treatments are not painful, but OLC has options to reduce the discomfort level if you're worried. Laser treatments have very few side effects, which usually include some redness and minor swelling. Most people are able to resume their regular activities immediately following treatment.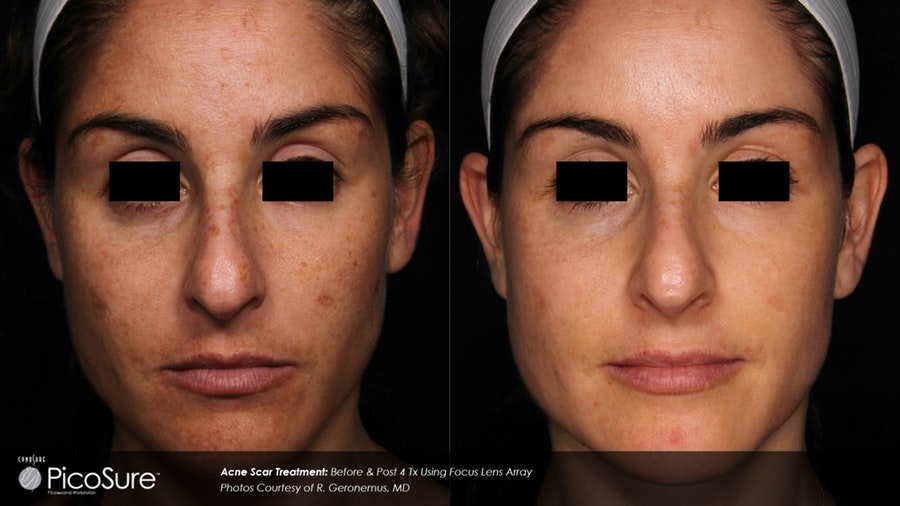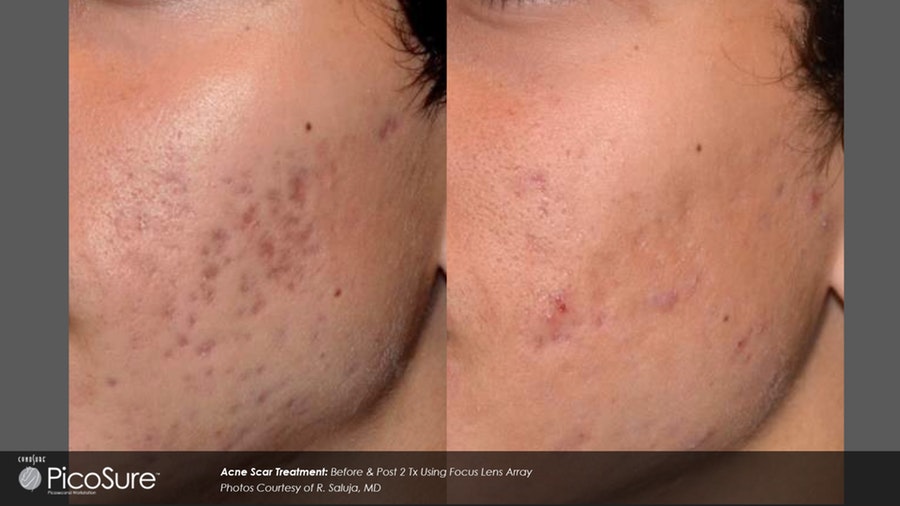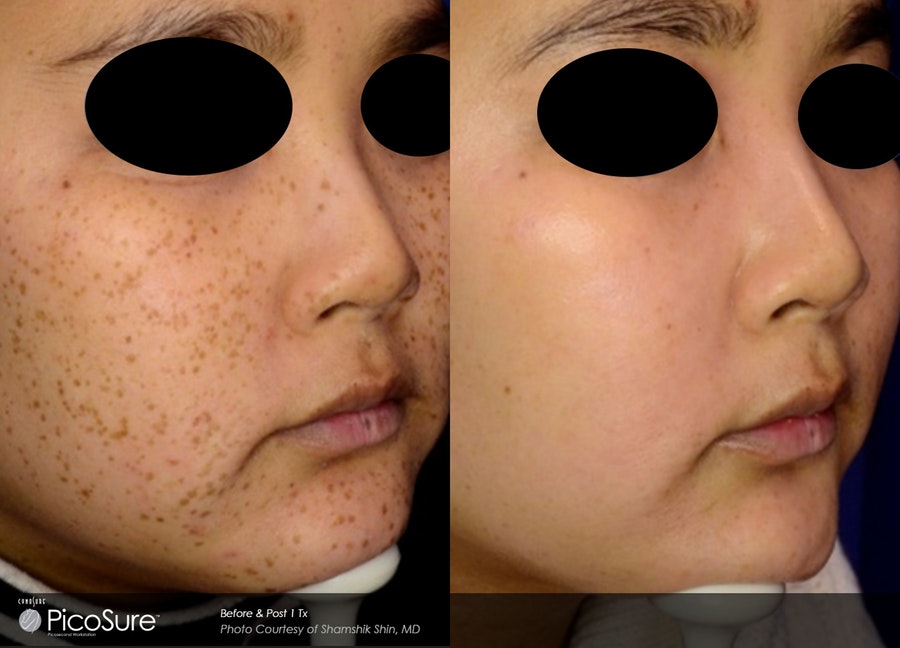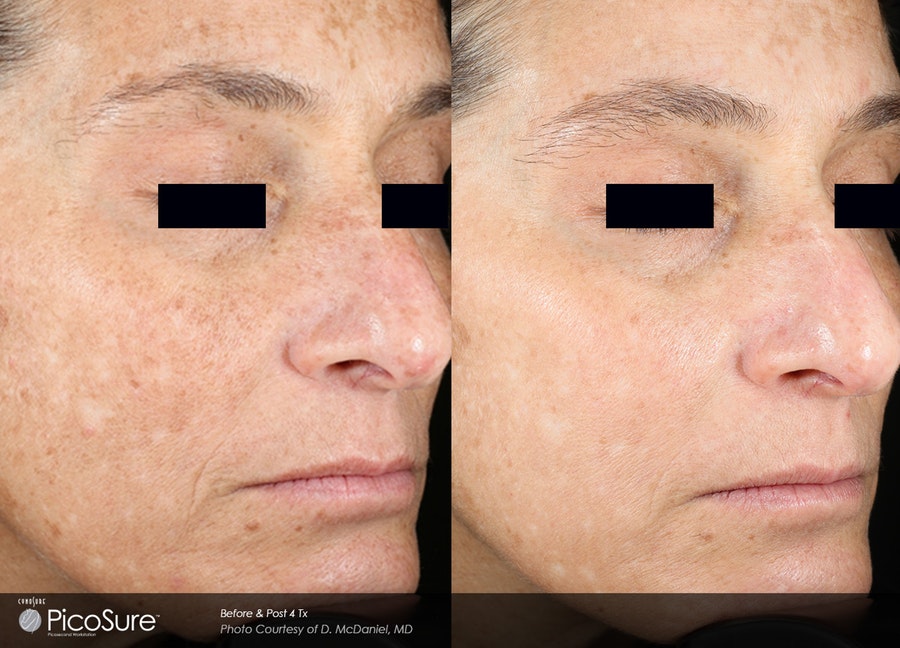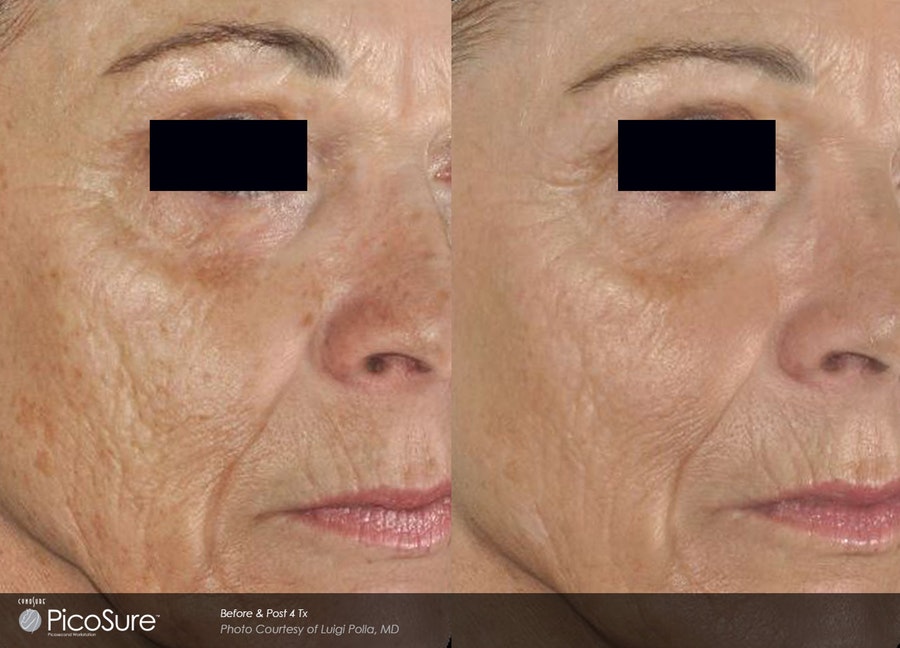 Pre-/Post-Treatment
Prior to your skin revitalization treatment, you should:
avoid prolonged sun exposure for 4 weeks
apply SPF 30+ every 2 hours when exposed to the sun
avoid retinol, AHA or BHA 5-7 days pre-treatment
be sure to notify your technician of any changes to your health or medications 
After your skin revitalization treatment, you should:
cool the skin as needed with cold gel packs, aloe vera gel or cool air.
wash the treatment area gently with soap and water, ensuring not to soak the treated areas
not shave or pick the treated area if crusting is evident
apply SPF 30+ sunscreen to protect exposed, treated areas